aug-project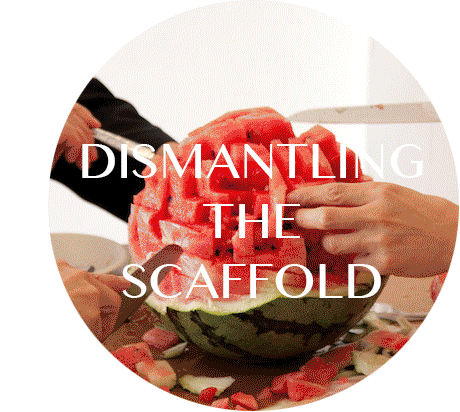 Spring W0rkshop's final exhibition Dismantling the Scaffold closes in 9 days.

This large-scale group show was built over two years through a powerful communal effort between the curator, the artists and the teams of the many organisations involved, and has brightly showcased the value of collaboration, as proposed by curator Christina Li. It has been a privilege and an adventure to create the inaugural public exhibition of the Tai Kwun Contemporary program, and we hope you'll find a minute to visit again—or for the first time—before August 19.

Odds are that you want a few more minutes to laugh with Nadim Abbas, Errka Nissinen, Magdalen Wong about inverted immortality in their installation Credit Mort; to ponder Bing Lee's unsettlingly relevant pictograms in Animal Farm; to reflect on the Xijing Men's fictitious "Western Capital" and the activities of its presidents; to lose yourself in Wong Wai Yin & Kwan Sheung Chi's marathon work Everything Goes Wrong for the Poor Couple; to develop a crush on Yvonne Droge Wendel's Black Ball; to take in Koki Tanaka's filmed interviews that trace a rarely seen story of Hong Kong; or to build your own absurdist super weapon and scan heaps of QR codes from the installation Killing 3000, by LH02's Pak Sheung Chuen, Jaffe.T, Cathy Tsang, Grace Gut, and Siumou Chow. (The exhibition brochure can be found here.)

And if cookies, music, and dancing improve your weekends, come catch the last few rounds of twirling chefs baking batches of Hong-Kong-sky-shaped biscuits in The Spectacle of Space Consumption, choreographed performances by Leung Chi Wo + Sara Chi-Hang Wong.

Finally, once again, we would like to thank the teams at Tai Kwun Contemporary and The Hong Kong Jockey Club for believing in the presentation of artworks like these. As of today, the work Number of Visitors by SUPERFLEX and Jens Haaning clocks 129,029 visitors to the show, an astounding number which allows us to be boldly optimistic about the growth of Hong Kong's art audience and to know that it extends far into our diverse population. Onward and upward we go.
Spring Workshop presents
Dismantling the Scaffold
at Tai Kwun Contemporary
Curated by Christina Li
Dismantling the Scaffold draws attention to the Tai Kwun site's historical function as Central Police Station, Victoria Prison and Central Magistracy, which preceded its transformation into a new permanent cultural institution and heritage site in Hong Kong. The exhibition brings together works from artists and collectives from Hong Kong and abroad, which engage with the social and civil structures we collectively inhabit. They include Nadim Abbas, Erkka Nissinen, Magdalen Wong, Big Tail Elephant, Chen Shaoxiong, Luke Ching Chin Wai, Tiffany Chung, Claire Fontaine, Kwan Sheung Chi, Wong Wai Yin, Bing Lee, Leung Chi Wo + Sara Wong, Liang Juhui, Lin Yilin, Roman Ondak, LH02 (Pak Sheung Chuen, Jaffe.T, Cathy Tsang, Grace Gut, Siumou Chow), PolyLester, Jhafis Quintero, Superflex and Jens Haaning, Koki Tanaka, Ulay / Marina Abramović, Bik Van der Pol, Yvonne Dröge Wendel, Xijing Men, Xu Tan.

| | |
| --- | --- |
| Date | Jun 9—Aug 19, 2018 |
| Time | |
| Location | JC Contemporary, Tai Kwun, 10 Hollywood Road |
| Event | Exhibition |
| Cost | Free; booking optional at www.taikwun.hk |
| Share | |
Dismantling the Scaffold
Public Programs
After the completion of public programs with Tiffany Chung, Bing Lee, and LH02 (Pak Sheung Chuen, Jaffe.T, Cathy Tsang, Grace Gut, Siumou Chow), the sole remaining public program is the The Spectacle of Space Consumption, created by Leung Chi Wo + Sara Wong. The performance occurs on Friday evenings (7:30pm) and Saturday/Sunday afternoons (3pm), and concludes with freshly made cookies.

All are welcome.

| | |
| --- | --- |
| Date | Fri 7:30pm & Sat/Sun 3pm |
| Time | |
| Location | 2/F, JC Contemporary, Tai Kwun |
| Event | Public program |
| Cost | Free |
| Share | |