mission
Spring Workshop is a cultural initiative that brings people together to experiment with the way we relate to art. Committed to an international cross-disciplinary program of artist and curatorial residencies, exhibitions, music, film and talks, from 2011 to 2017 Spring served as a platform and laboratory for exchange between the vibrant artists, organisations and audiences that define Hong Kong's rich cultural landscape and their international counterparts who sought to engage in far-reaching dialogue. In 2016, Spring Workshop received the Prudential Eye Award for Best Asian Contemporary Art Organisation.
In January 2018, Spring  closed its doors to begin a temporary season of rest and transformation.
Residents & Collaborators
A Constructed World
Nadim Abbas 唐納天
Sabih Ahmed
Ageng Nurul Aini
Ruby Onyinyechi Amanze
Lee Ambrozy
Victoria Amedume
Ang Song Ming 洪松明
Iván Argote
Janine Armin
Áki Ásgeirsson
Shane Aspegren
Defne Ayas
Dila Martina Ayulia
Rosa Barba
Álvaro Barrios
John Batten
Erik Benjamins
Tobias Berger
Bishan Commune 碧山計劃
Claire Bishop
Patsey Bodkin
Milena Bonilla
Kasper Bosmans
boychild
Lorenza Brancadoro
Roger M. Buergel
Clare Butcher
C & G Artpartment
Cao Shuying 曹疏影
Maurice Carlin
Carlos Mínguez Carrasco
Kirsty Carter
Brian Castriota
Aslı Çavuşoğlu
Annabell Chan 陳安瑤
Kit Chan 陳傑
Taylor Chan 陳梓冲
Holok Chen 陳可樂
Enoch Cheng 鄭得恩
Clara Cheung 張嘉莉
Dorothy Cheung 張紫茵
Chiu Tan Ching 邱丹青
Selena Choi 蔡芷穎
Doryun Chong 鄭道鍊
Heman Chong 張奕滿
Chong Kee Yong
Evelyn Char 查映嵐
Olivia Chow 周宛昀
Chow Yiu Fai 周耀輝
Susanna Chung 鍾玉文
Tiffany Chung
Tyler Coburn
Cosmin Costinas
Ivet Curlin
Fayen d'Evie
Iftikhar Dadi
Sandhya Daemgen
Sumangala Damodaran
Moyra Davey
Jennifer Davis
Jane DeBevoise 杜柏貞
Ana Devic
Christopher DeWolf
Aye Dila
Patrizio di Massimo
Glenn Eugen Ellingsen
Elmgreen & Dragset
Cevdet Erek
Köken Ergun
Özge Ersoy
ESKYIU
Jes Fan
Fan Popo 范坡坡
Farms for Democracy 民主耕地
Chris Fitzpatrick
Patrick Flores
Eva Franch
Michael Friedman
Daniel Gabrielli
Amira Gad
Simryn Gill
Moosje Goosen
Sarah Lehrer-Graiwer
Georgia Gardner Gray
Joseph Grima
Krist Gruijthuijsen
Inti Guerrero
Agung Gunawan
Sigurður Guðjónsson
Hitman Gurung
Lawrence Abu Hamdan
Nav Haq
Patrick Gunawan Hartono
Toru Hayashi 林亨
Sharon Hayes
Rosemary Heather
Malak Helmy
Calla Henkel
Betti-Sue Hertz
HK Farm
Elaine W. Ho 何穎雅
Kiki Ho 何梓埼
Ho Rui An 何銳安
Ho Sin Tung 何倩彤
Ho Tzu Nyen 何子彥
Karl Holmqvist
James T. Hong 洪子健
Claire Hsu 徐文玠
Hu Fang 胡昉
Huang Xiaopeng 黄小鵬
Andrew Hugill
Angel Hui 許開嬌
Simon Hui 許裕成
Steve Hui 許敖山
Uncle Hung 雄仔叔叔
Clifford Irving
Bruno Isaković
Jerrel Jackson
Mia Jankowicz
Travis Jeppesen
Eisa Jocson
Mark Dean Johnson
Nathalie Johnston
Amelia Jones
Rashida Jones
Mayching Kao 高美慶
Ruba Katrib
Joe Kay
Joan Kee
Daniel Keller
William Kentridge
Kevin Killian
Euna Kim 金思蛾
Anthony Ko 高志聰
Job Koelewijn
Joyce Koh
Koyo Kouoh
Maya Kramer
Alana Kushnir
Lenny Kwok 郭達年
Samantha Kwok 郭清夷
Charles Kwong 鄺展維
Kevin Kwong
Lars Kynde
Brandon Labelle
Sarah Lai 黎卓華
Lai Yan Chi, Mo 賴恩慈
Lam Lai 林儷
Lam Tung Pang 林東鵬
William Lane
James Langdon
Pablo Larios
Quinn Latimer
Latitudes
Vincenzo Latronico
Doretta Lau 劉淑莊
Venus Lau 劉秀儀
Heidi Law 羅鎧欣
Vanissa Law 羅穎綸
Angus Lee 李一葦
Lee Chi Leung 李智良
Lee Kai Chung 李繼忠
Lee Kit 李傑
Michael Lee 李鴻輝
Lee Su Ying
Lee Weng Choy 李永財
Xavier LeRoy
Leung Chi Shing 梁志承
Leung Chi Wo 梁志和
GayBird Leung 梁基爵
Michael Leung 梁志剛
Leung Tak Wing 梁德穎
Candy Li 李素潔
Christina Li 李綺敏
Pi Li 皮力
Li Yifan 李一凡
Charles Lim 林育榮
Qinyi Lim 林沁怡
William Lim 林偉而
Ming Lin 凌明
Ling Fan 范凌
Lio Kuokman 廖國敏
Keith Lipson
Natalie Lo Lai Lai 勞麗麗
Loo Sze Wang 盧思泓
Vanessa Ma
Mak Ying Tung 麥影彤
Raimundas Malašauskas
MAP Office
Pedro Neves Marques
Eli Marshall
Patrizio Di Massimo
Rajesh Mehta
Ari Benjamin Meyers
Modern Academy 現代學院
Marge Monko
Tom Morgan
Saori Nakasawa 中澤沙央里
Deimantas Narkevičius
Hammad Nasar
Molla Nasreddin
Manuel Nawri
Devora Neumark
Carmen Ng
Jason Nogoy
Vincent Normand
Clara Novakova
Ahmet Öğüt
Qu Ning 歐寧
Thomas Orbon
Ahmet Öğüt
Rosemary Orr
Sean O'Toole
João Vasco Paiva
Pak Sheung Chuen 白雙全
Christodoulos Panayiotou
Parallel Lab
Julie Peeters
Manuel Sebastian Pelmus
Lokz Phoenix
Max Pitegoff
Ella Plevin
Gaile Pranckunaite
Qiu Zhijie 邱志傑
Xiaoshi Vivian Vivian Qin 覃小詩
Walid Raad
Sheelasha Rajbhandari
Farid Rakun
Nora Razian
Alice Rensy
Jewyo Rhii
Augie Robles
Marsha Roddy
Roee Rosen
Emily Roysdon
Miljohn Ruperto
Rurangrupa
Sabina Sabolović
Samuel Saelemakers
Renata Salecl
Sangwoodgoon 生活館
João dos Santos
Eric Schuldenfrei
Joshua Serafin
Claire Shea
Mariana Silva
Chai Siris
Siu King Chung 蕭競聰
Slavs and Tatars
Song Ta 宋拓
Polly Staple
Alec Steadman
Mladen Stilinović
Melati Suryodarmo
Miguel Syjuco
George Szirtes
Toshie Takeuchi 竹內壽惠
Laine Tam 譚亦俽
Erika Tan
Zelia Tan
Koki Tanaka 田中功起
David Teh
Martijn Tellinga
André Teodósio
Emma Thomas
Tom Chung Man 譚頌汶
Jalal Toufic
Arlette Quynh-Anh Tran
Carol Tsang Yi Man 曾綺文
Mary Maggic Tsang 曾瀞瑩
Thomas Tsang 曾慶豪
Wu Tsang 曾吳
Tse Chun Sing 謝俊昇
Howie Tsui 徐浩恩
Florin Tudor
Ken Ueno 上野掯
Luisa Ungar
Oscar van den Boogaard
Mona Vatamanu
Vinod Velayudhan
Very MK
Jan Vorisek
Raul Walch
Chelsea Wan Pak On 温栢安
Wang Hong-Kai 王虹凱
Wang Ping-Hsiang 王品翔
Wang Taocheng 王韜程
Haitham Wardany
Apichatpong Weerasethakul
Xiaoyu Weng 翁笑雨
Philip Wiegard
Adrian Wong 王浩然
Alice Wong 黃嘉淇
Chantal Wong 黃子欣
Chloe Wong 黃靜婷
Kacey Wong 黃國才
Magdalen Wong 黃頌恩
Michelle Wong 黃湲婷
Ming Wong 黃漢明
Morgan Wong 黃榮法
Sara Wong 黃志恆
Sonia Wong 黃鈺螢
Wong Wai Yin 黃慧妍
Wucius Wong 王無邪
Ann Woo
Brian Kuan Wood
Sincere Wu
Sarah Xiao
Zan Yamashita 山下殘
Yang Fudong 楊福東
Haegue Yang 梁慧圭
Pauline Yao 姚嘉善
Yang Hao 楊浩
Jun Yang 楊俊
Karina Yau 尤美盈
Yaumatei Gardener 油蔴地花王
Yeo Wei Wei 楊薇薇
Yeung Hachi 楊夏至
Trevor Yeung 楊沛鏗
Linda Yim 嚴翠珠
Marisa Yiu 姚嘉姍
Mike Yip 葉志聰
SheenRu Yong
Douglas Young 楊志超
Samson Young 楊嘉輝
Yu Honglei 尉洪磊
Yuk King Tan 陳玉瓊
Anthony Yung 翁子健
Arnisa Zeqo
Kunfang Zhao 趙坤方
Zheng Guogu 鄭國谷
Zhu Mu 朱牧
Zhuang Wubin 莊吳斌
Tirdad Zolghadr
Amir Nizar Zuabi
Mislav Žugaj
Team
Mimi Brown 貝明湄
Founder, 2011-present
Defne Ayas
Curator-at-Large, 2011-17
Athena Wu 胡沐雲
Programs and Operations, 2012-15
Mandy Chan 陳希雯
Programs, 2013-17
AJ Vicente
Hospitality and Technology, 2013-17
Emily Cheung 張慧儀
Programs and Operations, 2013-16
Sean Wong 黃翊豐
Programs, 2013-17
Christina Li 李綺敏
Director/Curator-at-Large, 2015-17
Jessica Kong 江卓姿
Programs and Communications, 2015-17
Phoebe Chan 陳善雯
Programs and Operations, 2016-17
VISIT
Spring is located in the Wong Chuk Hang neighborhood of Hong Kong island. To find us, please click here.
Spaces
In its incarnation from 2011-2017, Spring had three artist residency studios, an exhibition/performance space, two kitchens and two outdoor terraces.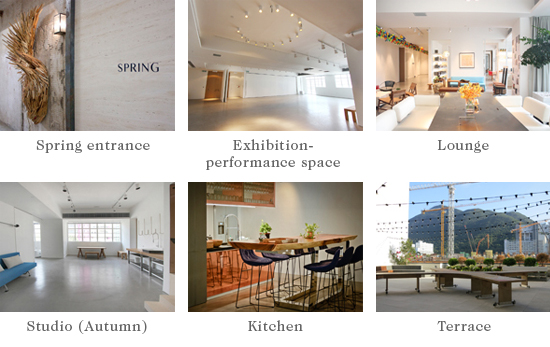 High-resolution images can be downloaded here
◄ Never Delete This Line! Position the cursor before the arrow to insert a block.