mission
Spring Workshop is a cultural initiative that brings people together to experiment with the way we relate to art. Committed to an international cross-disciplinary program of artist and curatorial residencies, exhibitions, music, film and talks, Spring serves as a platform and laboratory for exchange between the vibrant artists, organisations and audiences that define Hong Kong's rich cultural landscape and their international counterparts who seek to engage in far-reaching dialogue.
In 2016, Spring Workshop received the Prudential Eye Award for Best Asian Contemporary Art Organisation.
Residents & Collaborators
A Constructed World
Nadim Abbas 唐納天
Lee Ambrozy
Ang Song Ming 洪松明
Ivan Argote
Janine Armin
Defne Ayas
Rosa Barba
Alvaro Barrios
Tobias Berger
Bishan Commune 碧山計劃
Claire Bishop
Milena Bonilla
Kasper Bosmans
boychild
Clare Butcher
Brian Castriota
Aslı Çavuşoğlu
Holok Chan 陳可樂
Kit Chan 陳傑
Enoch Cheng 鄭得恩
Clara Cheung 張嘉莉
Doryun Chong 鄭道鍊
Heman Chong 張奕滿
Chow Yiu Fai 周耀輝
Cosmin Costinas
Ivet Curlin
Iftikhar Dadi
Sumangala Damodaran
Moyra Davey
Jane DeBevoise 杜柏貞
Ana Devic
Fayen d'Evie
Christopher DeWolf
Patrizio di Massimo
Elmgreen & Dragset
Cevdet Erek
Farms for Democracy
民主耕地
Chris Fitzpatrick
Patrick Flores
Michael Friedman
Daniel Gabrielli
Amira Gad
Moosje Goosen
Krist Gruijthuijsen
Inti Guerrero
Nav Haq
Sharon Hayes
Rosemary Heather
Malak Helmy
Betti-Sue Hertz
Elaine W. Ho 何穎雅
Kiki Ho 何梓埼
Hong Kong Farm
James T. Hong 洪子健
Ho Rui An 何銳安
Ho Sin Tung 何倩彤
Ho Tzu Nyen 何子彥
Claire Hsu 徐文玠
Hu Fang 胡昉
Clifford Irving
Bruno Isakovic
Mia Jankowicz
Travis Jeppesen
Eisa Jocson
Mark Dean Johnson
Nathalie Johnston
Amelia Jones
Ruba Katrib
Mayching Kao 高美慶
William Kentridge
Anthony Ko 高志聰
Job Koelewijn
Koyo Kouoh
Alana Kushnir
Lam Tung Pang 林東鵬
William Lane
Latitudes
James Langdon
Quinn Latimer
Vincenzo Latronico
Doretta Lau 劉淑莊
Venus Lau 劉秀儀
Lee Kit 李傑
Michael Lee 李鴻輝
Lee Weng Choy 李永財
Sarah Lehrer-Graiwer
Xavier LeRoy
Leung Chi Wo 梁志和
Michael Leung 梁志剛
Christina Li 李綺敏
Pi Li 皮力
Li Yifan 李一凡
Charles Lim 林育榮
Qinyi Lim 林沁怡
William Lim 林偉而
Ming Lin 凌明
Ling Fan 范凌
Natalie Lo Lai Lai 勞麗麗
Raimundas Malašauskas
MAP Office
Rajesh Mehta
Modern Academy
Deimantas Narkevičius
Hammad Nasar
Ou Ning 歐寧
Vincent Normand
Rosemary Orr
Sean O'Toole
Pak Sheung Chuen 白雙全
Christodoulos Panayiotou
Parallel Lab
Julie Peeters
Manuel Sebastian Pelmus
Qiu Zhijie 邱志傑
Walid Raad
Alice Rensy
Jewyo Rhii
Marsha Roddy
Roee Rosen
Emily Roysdon
Sabina Sabolovic
Samuel Saelemakers
Renata Salecl
Sangwoodgoon 生活館
Eric Schuldenfrei
Joshua Serafin
Song Ta 宋拓
Polly Staple
Mladen Stilinović
Melati Suryodarmo
George Szirtes
Toshie Takeuchi 竹內壽惠
Laine Tam 譚亦俽
Jalal Toufic
Wu Tsang 曾吳
Howie Tsui 徐浩恩
Florin Tudor
Luisa Ungar
Oscar van den Boogaard
Joao Vasco Paiva
Mona Vatamanu
Very MK
Raul Walch
Hong-Kai Wang 王虹凱
Taocheng Wang 王韜程
Apichatpong Weerasethakul
Philip Wiegard
Xiaoyu Weng 翁笑雨
Adrian Wong 王浩然
Chantal Wong 黃子欣
Kacey Wong 黄國才
Magdalen Wong 黃頌恩
Ming Wong 黃漢明
Sara Wong 黃志恆
Wucius Wong 王無邪
Sarah Xiao
Zan Yamashita 山下殘
Yang Fudong 楊福東
Haegue Yang 梁慧圭
Pauline Yao 姚嘉善
Yaumatei Gardener
油蔴地花王
Yeo Wei Wei 楊薇薇
Trevor Yeung 楊沛鏗
Marisa Yiu 姚嘉姍
Douglas Young 楊志超
Samson Young 楊嘉輝
Yu Honglei 尉洪磊
Yuk King Tan 陳玉瓊
Anthony Yung 翁子健
Arnisa Zeqo
Kunfang Zhao 趙坤方
Zheng Guogu 鄭國谷
Zhuang Wubin 莊吳斌
Team
Mimi Brown
Founder and Director
Defne Ayas
Curator-at-Large
Christina Li
Curator-at-Large
Jessica Kong
Communications and Programs
Phoebe Chan
Operations and Programs
Mandy Chan
Programs
AJ Vicente
Hospitality and Technical Support
VISIT
Spring is located in the Wong Chuk Hang neighborhood of Hong Kong island. To find us, please click here.
Our regular opening hours are from 12 to 6pm from Tuesday to Friday (or by appointment).
Spaces
Spring has three artist residency studios, an exhibition/performance space, two kitchens and two outdoor terraces.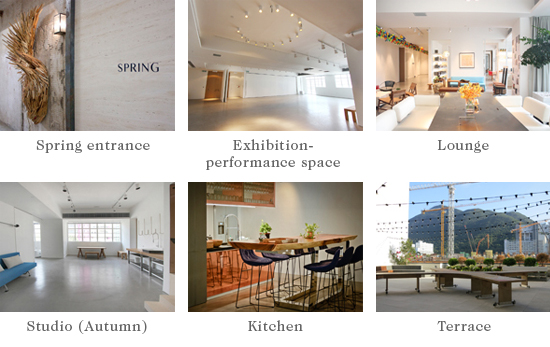 High-resolution images can be downloaded here
◄ Never Delete This Line! Position the cursor before the arrow to insert a block.