Sept 14 | September at Spring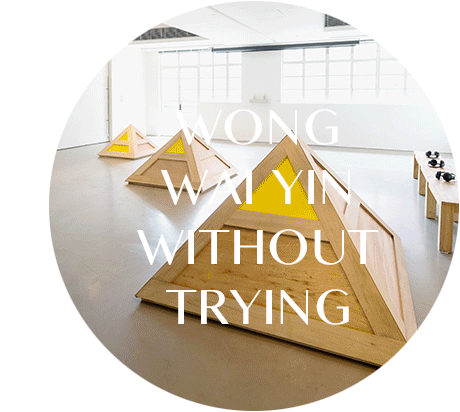 "The works…are powerful because these are honest answers to questions that most of us don't dare ask ourselves."

—Enid Tsui, South China Morning Post

"Without Trying is a breakout exhibition… This is a deft show and introduces, with humour and gentle commentary, a serious aspect to why the exhibition has been delayed: her anxiety attacks and hesitation to work on her art."

—John Batten, South China Morning Post

Wong Wai Yin's exhibition Without Trying is open now.

As a complement to the show, Wong has written a book of personal reflections The ten seconds that determine whether A gets made into a work which is currently at the printer. It will be ready by September 24 (Sat) when we will have a guided tour to coincide with South Island Cultural District Art Day, so come back to get your free copy of Wong's book and to see all of the neighborhood's art spaces in festive mode (read: wine and snacks). We are particularly looking forward that day to the Blindspot Gallery opening of Trevor Yeung, an artist we have worked closely with at Spring. Next month, we will host two gatherings centered on motherhood as we continue to weave using the threads from Wong's works.

At our partner organization Asia Art Archive, you'll be able to see Wong Wai Yin's new work Talking Archive next month as part of their 15 Invitations for 15 Years program. Wong has invited Percy Mak, a psychic medium and animal communicator, to speak to various sites within AAA and its collection in order to uncover their "true opinions". The findings will be presented in the AAA library in the form of a video and site-specific installation open from October 10 (Mon) to November 26 (Sat).

A very cool initiative you should know about from the Hong Kong Arts Centre is an art bus called Hong Kong Art-in-Motion that gives free rides to anyone who wants to hit different art spaces during weekends. The September art bus will go from Wanchai to Fortress Hill, Choi Hung, West Kowloon and Wong Chuk Hang. There will be a docent on board and in each art space, so you don't have to know anything. Just hop on the hourly bus and a full afternoon of culture will unfold before you.

Don't forget that Spring is open during public holidays, so come by on this long weekend to see Without Trying if you haven't.

Happy Mid-Autumn Festival! 中秋節快樂!
The solo exhibition of Hong Kong artist Wong Wai Yin chronicles her attempts to recalibrate her life following the birth of her son. With this in mind, she embarks on a learning binge, and the resulting work is an adventure in identity shifting.

Wong Wai Yin was an artist-in-residence at Spring Workshop from June through August 2016. The exhibition is curated by Christina Li, Director of Spring Workshop.

A companion publication featuring Wong's personal reflections on art-making will be published on September 24 (Sat) to coincide with South Island Cultural District (SICD) Art Day.

SICD Art Day 2016
Saturday, September 24, 2016
Guided tour at Spring
3pm – 4pm

| | |
| --- | --- |
| Date | Aug 20–Oct 16, 2016 |
| Time | 12–6pm (Tues-Sun) |
| Location | Spring |
| Event | Exhibition |
| Cost | Free |
| | |
As part of their program 15 Invitations for 15 Years, Wong Wai Yin will present Talking Archive at our partner organization Asia Art Archive (AAA). Wong invites her collaborator Percy Mak, a psychic medium and animal communicator who talks to objects and space, to speak to various sites within AAA and its collection in order to uncover their "true opinions."

Mak's questions directed at various AAA materials include: as a historical document, how do you think history should be invented? As one of the oldest documents in AAA's collection, what do you think is the most valuable accomplishment by the organisation in the last 15 years? The findings will be presented in the AAA library in the form of a video and site-specific installation.

Talking Archive 
October 10 – November 26, 2016
Asia Art Archive
11/F, Hollywood Centre
233 Hollywood Road
Sheung Wan, Hong Kong

*Image courtesy of the artist and Asia Art Archive.

| | |
| --- | --- |
| Date | Oct 10 – Nov 26, 2016 |
| Time | |
| Location | AAA |
| Event | Installation and talk |
| Cost | Free |
| | |
This September we welcome several new residents. They include Brian Kuan Wood, a writer based in New York who is the editor of e-flux journal, and Berlin-based writer and artist Travis Jeppesen who is working on a book about art and daily life in Pyongyang after spending his summer in the city learning Korean. Continuing our support of M+, we are delighted to host the M+/Design Trust Research Fellow for 2016,  Joseph Grima, architect, writer and researcher based in New York and Genoa. During his stay, Grima will build on his well-known work in the area of open-source, collaborative, decentralised, and non-hierarchical design by examining the contemporary design ecosystems of Shenzhen and the Pearl River Delta.

| | |
| --- | --- |
| Date | Autumn |
| Time | |
| Location | Spring |
| Event | Residencies |
| Cost | |
| | |