Nov 1 | Max and Calla: Winter Sublet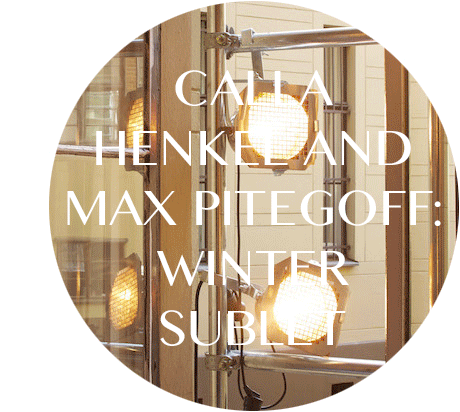 Taking inspiration from Wong Wai Yin's exhibition Without Trying which extolled the virtue of clearing out one's mind and one's closets, we undertook an extensive autumnal Spring cleaning…and found all sorts of interesting artifacts we want to share with you.

One of these is a collection of the scores of maps that have been submitted to the annual Spring Workshop Map Competition, when artists are invited to create renderings of Wong Chuk Hang that chart its landmarks, galleries and eateries. This Saturday in concert with Hong Kong Art Gallery Association's (HKAGA) Art Day at South Island 2016 we will present a selection of the original maps, which provide a unique entry point for understanding the remarkable evolution of the area.

After that, we have no idea what will happen at Spring. Berlin-based American artist duo Calla Henkel and Max Pitegoff will take charge of the organization (in a "friendly handover") with their project Winter Sublet which will unfold over six weeks in our space. What we do know is that on the afternoon of Saturday, November 19, we are all invited to an opening event called Music for a Script – A Primer with Jan Vorisek, so please mark your calendar and join us for the ride.

We look forward to being as surprised as you are.
During their residency at Spring Workshop, Calla Henkel and Max Pitegoff will produce a film with Spring as the stage for a series of public events functioning as scenes serving a larger narrative. The filming and the film itself will act as semi-fictionalised audit of Spring's institutional mechanics.

Working with the format of a musical, Henkel and Pitegoff's film will embrace alternatives within the production of "space", "culture", and "audience." As Spring Workshop prepares for its final year, Henkel and Pitegoff will impose a love story onto Spring's imagined future and restaged past.

PROGRAM SCHEDULE 
Saturday afternoon, November 19
Opening performance
Music for a Script – A Primer with Jan Vorisek*

Sunday, December 18
Finissage public event
A final reading*

*Program dates and times are subject to change. Check our website www.springworkshop.org for updates.

| | |
| --- | --- |
| Date | Nov 19 – Dec 18, 2016 |
| Time | 12–6pm (Tues-Sun) |
| Location | Spring |
| Event | Exhibition, performance, workshops |
| Cost | Free |
| | |
Each year since 2012, we have held the Spring Workshop Map Competition when artists are invited to create maps of our quickly-changing neighborhood. The purpose of these maps is to help you find the galleries and restaurants popping up each year, and also to document the evolution of Wong Chuk Hang. We award 1st, 2nd and 3rd prizes, and publish the first-prize winner on our brochure. The 2016 winning map by Taylor Chan can be found here.

This Saturday in concert with Hong Kong Art Gallery Association's (HKAGA) Art Day at South Island 2016, Spring Workshop will present a selection of entries from the past four years, giving you the opportunity to see the lay of the land – and how it is changing.

| | |
| --- | --- |
| Date | Nov 5, 2016 (Sat) |
| Time | 12-7pm |
| Location | Spring |
| Event | Exhibition |
| Cost | Free admission |
| | |