Aug 17 | Wong Wai Yin: Without Trying Opening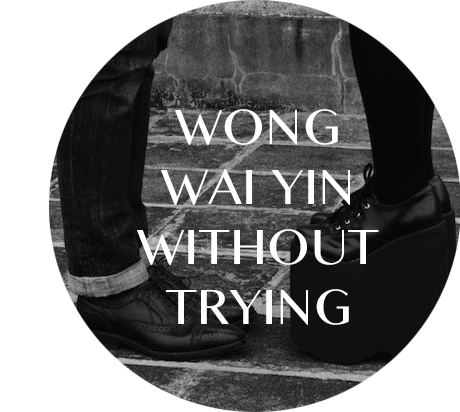 I think it's not about style, but about the intention of doing something for the greater good. After the birth of my son, I began to see the world through his eyes, and this experience of motherhood gave me much food for thought regarding my ideas about the world and art. The works in this exhibition capture the changes. – Wong Wai Yin

This Saturday, Without Trying, Wong Wai Yin's first solo show in 5 years, will open at Spring.

It has been an incredible summer having Wong with us as artist-in-residence, watching her experiment, annihilate and create. Motherhood has transformed her philosophy on making art, and the new work tells us the story.

During her 5-year professional hiatus, Wong embarked on a learning adventure, taking lessons in dog training, spiritual response therapy (SRT), ukulele and French as she attempted to recalibrate herself to a new identity. The resulting videos, paintings and installations lay bare the ways in which she has come to terms with her fears and aspirations when the time she had previously spent making art was usurped by childcare duties.

On this note, for the first time at Spring, we will host a Children's Corner from 4pm to 6pm during the opening reception on August 20. In recognition of Wong's and her fellow parents' travails, we hope to provide parents with a moment to enjoy the exhibition while their little ones engage in a craft themed on Wong's artwork.

A publication featuring Wong Wai Yin's personal reflections on art-making will accompany the exhibition, and be available in late September 2016.

We look forward to seeing you at Without Trying's opening reception this Saturday, August 20. And children are most welcome.
We are delighted to announce the solo exhibition of Hong Kong artist Wong Wai Yin. As Wong attempts to recalibrate her life following the birth of her son, she embarks on a learning adventure, engaging in courses on dog training, spiritual response therapy, guitar and French. The resulting work is an adventure in identity shifting.

Wong Wai Yin is an artist-in-residence at Spring Workshop from June through August 2016. The exhibition is curated by Christina Li, Director of Spring Workshop.

PROGRAM SCHEDULE

Saturday, August 20, 2016 
Exhibition Opening
3pm – 7pm

*Children's Corner
4pm – 6pm
For children aged 3-9 years 

Saturday, September 24, 2016
Guided tour with artist and curator (as part of South Island Cultural District Art Day)
3pm – 4pm

Date
Aug 20–Oct 16, 2016
Time
Opening Aug 20: 3–7pm
Regular hours: 12–6pm (Tues-Sun)
Location
Spring
Event
Exhibition
Cost
Free
As part of their special programme series 15 Invitations for 15 Years (September 26 – November 26, 2016), Wong Wai Yin will present Talking Archive at our partner organization Asia Art Archive (AAA). Additionally, we will be hosting a two-part public program surrounding the exhibition.

Further details of Wong Wai Yin's public program will be announced soon. Please check our website for updates: www.springworkshop.org.

*Image courtesy of the artist and Asia Art Archive.

| | |
| --- | --- |
| Date | Sept 26, 2016 |
| Time | |
| Location | AAA and Spring |
| Event | Artist talks |
| Cost | Free |
| | |