Apr 5 | An exposition, not an exhibition Thank you
Thank you to the music makers
and the music lovers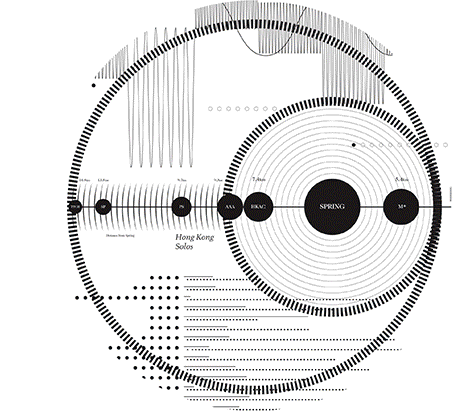 Our largest undertaking yet, An exposition, not an exhibition, has now closed* and we would like to take a moment to express our gratitude to the collaborators and audiences who realized the project.

To the 26 performers and 7 composers who presented 65 hours of a durational performance of contemporary music and 6 newly-scribed musical miniatures graciously hosted by 7 sites over the past 3 weeks all under the baton of artist/composer Ari Benjamin Meyers…

And to all of you audience members who came (sometimes repeatedly) and absorbed and engaged with the project, we want to say thank you.

Please join us in celebrating the entire ensemble of An exposition, not an exhibition:

Litany and Rapture — Hong Kong New Music Ensemble, featuring Founder and Artistic Director William Lane (viola), General Manager Sharon Chan, Project Coordinator Tim Chan (percussion), Chiu Tan Ching (guzheng), Selena Choi (violin), Simon Hui (bass, sound engineer and guitar), Euna Kim (violin), Angus Lee (flute and conductor), Leung Chi Shing (clarinet), Leung Tak Wing (bassoon), Loo Sze Wang (sheng), Karina Yau (percussion), Linda Yim (piano), Mike Yip (electric guitar) and Zhu Mu (cello).

Hong Kong Solos —
GayBird Leung x Michelle Wong hosted by Asia Art Archive
Steve Hui x Samantha Kwok hosted by Hong Kong Arts Centre
Shane Aspegren x Tom Morgan hosted by M+
Vanissa Law x Olivia Chow hosted by Para Site
Charles Kwong x Alice Wong hosted by soundpocket
Lam Lai x Chantal Wong hosted by Things that can happen 

Anthem — Spring Workshop, featuring Mimi Brown, Christina Li, Phoebe Chan, Jessica Kong, Mandy Chan, Sean Wong, and AJ Vicente

Sandhya Daemgen for her artistic assistance, Milkxhake for graphic design

And Defne Ayas and William Lane, without whose passion this project would not have been possible.

The experiment of An exposition, not an exhibition, a multi-faceted show created by Meyers, was intended to test the ground for the founding of a new experimental art institution, Kunsthalle for Music, with our partner institution the Witte de With Center for Contemporary Art in Rotterdam. In addition to showcasing the charm and challenge of durational performances and live solos, the project took on the old rules of music, music-making and its institutions and proposed new ideas in their place. To dissolve boundaries, the show also explored the possibility of creating a cross-disciplinary meta-work across people and organizations in the city.

We hope that you will continue to follow the Kunsthalle for Music project as it goes on now to the Witte de With, where there will be a conference in May 2017 and then an inaugural Kunsthalle for Music exhibition in January 2018, featuring a series of new commissions.

*At the finissage this past Saturday, we held a rhythm workshop where a dozen amateurs and the Spring team learned—and terribly enjoyed—Steve Reich's Clapping Music. If you are sad to have missed this, you can learn it with this app: www.clappingmusicapp.com, and then clap with our staff on your next visit.
An exposition, not an exhibition was developed during Ari Benjamin Meyers' two residencies at Spring Workshop in the summer and fall of 2016, and stems from his ongoing research into the essence of live musical performance and the questions surrounding its protocols for audiences, performers and institutions.

The Kunsthalle for Music is commissioned by Witte de With Center for Contemporary Art (Rotterdam) together with Spring Workshop (Hong Kong) and will make additional appearances at locations to be announced. An exposition, not an exhibition at Spring Workshop (March 2017) unfolded the Kunsthalle's foundational themes, and will be followed now by a conference at Witte de With (May 2017) and an inaugural take-over of Witte de With, that features a series of new commissions (January 2018).

Date
2017
Time
Location
Spring Workshop
&
Witte de With Center for Contemporary Art
Event
Music,
performance,
conference
Cost
Free